Family Ties Season 5 Episode 12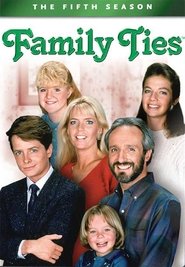 Family Ties Season 5 Episode 12
When Mallory brings her new friend, Allison King, home with her to study, little does she expect that Allison will find a kindred spirit in Elyse.
Bound together by their love of architecture, Allison and Elyse soon become fast friends, with Elyse even becoming the subject of Allison's architecture research project. They study together, shop together, go to exhibits together, always inviting Mallory to join them, but unconsciously making her feel like a fifth wheel.
Matters come to a head when Allison is invited to dinner at the Keatons "" after getting an ""A"" on her college architecture project. Mall unexpectedly vents her resentment and jealousy, and storms out, leaving her mother upset and confused.
When Mallory finally does return home, she and Elyse have to deal wtih the conflict that Allison's friendship has stirred. And together, they reaffirm that blood is, indeed, thicker than common interests.
Episode Title: My Mother, My Friend
Air Date: 1986-12-18
Year: 1986